This Memorial Day, Monday, May 29, 2017, join us as we remember all those who paid the ultimate price for our country's freedom at the Anthem Veteran's Memorial in the Anthem Community Park.  The ceremony begins at 9:00 a.m. Please note that this time is a change from previous years, due to a trend of high temperatures.
"A Day of Remembrance" honors the service and sacrifice of veterans who have fallen while serving our nation.
U.S. Army Lt. Col. David Clukey will deliver the keynote address. Lt. Col. John Simmons, U.S. Air Force (Retired) will serve as the Master of Ceremonies. Music will be provided by ProMusica Arizona.
A ceremony to commemorate the service and sacrifices of fallen soldiers will include the ringing of a bell for each veteran killed or missing in action and memorialized in the Circle of Honor; their names inscribed on brick pavers. Roses will be laid upon the pavers.
A POW/MIA table will be set, and a special ceremony will be conducted by Lt. Col. Simmons, Capt. Matthew Peterson (USA) and SFC Kristy Frandsen (USA), to remember those who cannot be with us – those whom we will never forget.
Seating is limited at this public event. Lawn chairs and blankets are welcome.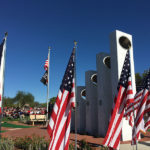 About the Anthem Veterans Memorial:
The Anthem Veterans Memorial, located in Anthem Community Park in Anthem, AZ is a monument dedicated to honor the service and sacrifice of our country's armed forces.
This pillar of pride provides a place of honor and reflection for veterans, their family and friends, and those who desire to show their respects to service men and women who have and continue to courageously serve our county.
The Memorial was dedicated November 11, 2011 and received Arizona Historic Landmark status six months later.
The five pillars, symbolizing the five branches of the Armed Forces, are designed with elliptical openings.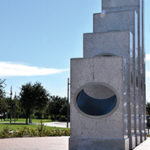 At precisely 11:11 a.m. each Veterans Day (Nov. 11), the sun's rays pass over the five pillars as the ellipses in each of the pillars form a perfect solar spotlight over a mosaic of The Great Seal of the United States.
The Carroll Law Firm would like to thank all of our veterans and active duty military men and women, and their families.  Please stay safe, be responsible, and have a wonderful Memorial Day!


Comments
comments
Related posts